Public Skating Schedule   Arena Schedules   Ice Rentals   Ice Rates   Public Skate Party    Keystone Skate Shop
---
Stride Place – Portage la Prairie, MB
Covid-19 Restoring Services: Phase 3 Site Plan
Effective: July 6, 2020
Guidelines for all facility users:
➢ Stay home if you are experiencing symptoms, even if they are mild.
➢ Screen participants, staff and volunteers daily for symptoms prior to work or participation in activities. Individuals who are ill with Covid-19 symptoms will not be permitted on site for work or scheduled activities.
➢ Allow physical distancing of two meters (6ft) at all times; except brief exchanges and when they are actively participating in a sport or activity.
➢ Only conduct necessary and brief exchanges within two meters of others.
➢ Avoid congregating in shared areas, such as the lobby of the facility.
➢ Use of hand sanitizer when you enter and exit the facility.
➢ Follow guidelines from sport organizations and facility site plans to minimize physical contact and risk of Covid-19 transmission between participants.
➢ All users are asked to bring their own filled water bottled.
➢ All users must adhere to their Provincial Sport Association guidelines.
Flow of People and Physical Distancing
The maximum number of people permitted indoors is 50, except where distinct groups of 50 can be separated to prevent contact with other groups through the use of separate exits, staggered schedules, as well as sufficient space to avoid congestion.
Users will need to check into reception 8am – 4pm/ /door attendant (after 4pm) PRIOR to going to their dressing rooms.
All bookings will continue to go through the Facility Scheduler via email or phone. Non-contact forms of payment are appreciated.
No large drop-in activities such as public skating or shinny hockey will be allowed at this time.
Signage
• Covid-19 guidelines signage will be posted at the entrance of Stride Place. Signage will be placed throughout the facility reminding all patrons of physical distancing measures, hand hygiene and cough etiquette.
Care & Control
• Each facility user will be required to keep a list of the members of their group and contact information for 21 days to ensure appropriate public health follow-up can take place if a participant is exposed to Covid-19.
• The renter of the facility is responsible for the actions of their group members.
• The renter is responsible for pre-screening the group members: ie if they have been out of the province in the last 14 days or showing symptoms of Covid-19.
• Anyone displaying signs of Covid-19 are not allowed to enter the facility.
• People who are ill should NOT participate in or be spectators of recreational activities.
• Encourage participants to shower at home.
• Encourage participants to bring their own water bottles and not to share with others.
Main Building
• Entrance through south doors; follow arrows for entrance and exiting procedures. (automatic accessibility door is available).
• Hand hygiene stations will be placed at the entrance and exit of the facility.
• Bathrooms will be open to public, with limited capacity, PRRA staff will sanitize frequently throughout the day and evening.
PRRA Offices
• Office are closed to public but can access at reception during office hours of 8:00am – 4:00pm or via email.
• Reception hours- Check In: Monday – Friday 7am – 9:00pm and Saturday 7am – 7:30pm.
Mutual Arena
• Maximum people on the ice Under 18 = 40 (includes players, coaches, officials)
• Maximum people on the ice Adult rental = 25
• Maximum people in the stands = 50
• Dryland training must be done outside
• Dressing rooms will be marked with every 2nd stall blocked off. Dressing room user numbers are as followed
➢ Dressing room 6 = 12
➢ Dressing room 7 = 13
➢ Dressing room 9 = 12
➢ Dressing room 10 = 13
➢ Dressing room 11 = 13
➢ Dressing room 12 = 12
• If additional dressing rooms are required, Stride Place arena dressing rooms will be used.
• PRRA staff will sanitize all dressing room in between users.
• Showers are closed until further notice
• Ice Users must bring their own water bottle, all drinking fountains will be closed however the water bottle filler will remain open. The PRRA staff will clean high touch points frequently throughout the day and evening rentals.
• Ice User will be allowed to enter dressing rooms 20 minutes prior to rental
• Ice Users must exit the facility 20 minutes after their ice time is complete.
PRRA staff will monitor all users and remind of social distancing, there will be no loitering in the facility until further notice.
Guidelines and protocols are subject to change.
---
Stride Credit Union Arena 1


Stride Place Northside
The Stride Credit Union Arena offers a 85'x 200' NHL ice pad with 1675 seats, 300-person standing room concourse, 20 & 40 person entertainment suites (Portage Toyota & RV Suites), 2-lane walking track (Portage CO-OP Walking Track), raised media (EF Moon Construction Media Room) &  sound rooms (Portage Agri Sales Sound Room), access to 7 standard dressing rooms, multipurpose room (Daily Graphic/Herald Leader Room), concessions (Champs Corners Grill & Snacks / McCain Foundation), bar services and washrooms.
---
Portage Mutual Arena 2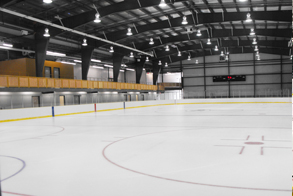 Stride Place Southside
The Portage Mutual Arena offers a 85'x 200' NHL ice pad with 300 bench style seats, 100 person standing room, sound system, 4 standard size dressing rooms and washrooms.
---
Stride Place Public Skating Schedule: 
Please note: Times/dates can and may change due to ice availability.
Schedules may change without notice, please check the above schedule or by calling 204-857-7772
---
Please note: Times/dates can and may change due to ice availability.
Schedules may change without notice, please check the above schedule or by calling 204-857-7772
---
For ice rentals, changes or inquiries please call 204-857-7772 or email ice@prra.ca
---
Youth Group   $120.00 /per hour
Adult Group   $155.00 /per hour
Non Prime     $65.00 /per hour
*2020 Prices
---
Skating during public skate and 2 hours in a party room
To book please call 204-857-7772 or email info@prra.ca
Printable Skate Party Invitations: